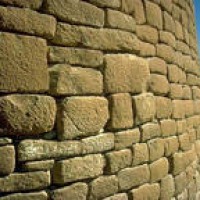 From Jerusalem to Jericho
by Pastor Paul L. Getter | November 6, 2012
Luke 10:30 And Jesus answering said, "A certain man went down from Jerusalem to Jericho and fell among thieves, who stripped him of his raiment and wounded him and departed, leaving him half dead.
The journey from Jerusalem to Jericho can be a long arduous path. A road filled with challenges. A road filled with attacks and adversaries, but a road that will lead to promises. Throughout the scripture Jerusalem always represent the place of God. This great holy city is where David brought back the ark of the covenant. Jerusalem was the city where Jesus came riding upon the donkey in His triumphant entry and Jerusalem was the place where God poured out His Spirit on the Day of Pentecost. Jerusalem represented "God's Presence" or an "Encounter with God".
Yet Jericho represented a place of promise. Of course we are all reminded of the great victorious day when the children of Israel marched around the walls and with a shout they came tumbling down. They entered into their Promise Land. A land flowing with milk and honey. It was Jericho where blind Bartimaeus saw the promise fulfilled given to us by the prophet Isaiah "Then the eyes of the blind shall be opened, and the ears of the deaf shall be unstopped." Isaiah 35:5.
In the account of the Good Samaritan we see the "certain man" fell on his journey between Jerusalem and Jericho. My prayer is that we would not fall after the experience and fail to make it to the promise. It was Moses who had the burning bush experience, yet failed to enter into the promised land. If we are not vigilant, faithful and persistent in our faith it will be nothing more than AN EXPERIENCE THAT NEVER REACHES THE PROMISE!
Pastor Paul L. Getter | New Life Apostolic Church | Naples, FL