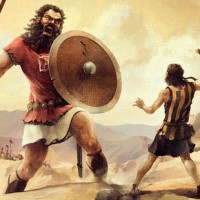 David's Other Giants
by Pastor Paul L. Getter | June 1, 2012
Throughout the life of David he faced more than one giant. Our giants come in different shapes and sizes. Some of the greatest giants that we face can never be defeated with a sling shot, but will only be brought down with a steadfast relationship with God. Lets look at some of the other giants that David faced.
2 Samuel 17:11-18:1

-GIANT OF COMFORT

I Samuel 17:20 And David rose up early in the morning, and left the sheep with a keeper, and took, and went, as Jesse had commanded him; and he came to the trench, as the host was going forth to the fight, and shouted for the battle.

He Left the Sheep-
He left His role of being merely a shepherd
He left his place of security and comfort
He left what he was most experience with

He had to defeat the mentality that said I'm comfortable in my little field.
He had to conqueor the giant that said don't challenge me to do something I've never done before.
I got it easy here. I'm doing what I've always done why do more?
He had to step out of the average, mundane, the usual, tradition, ritualism.

If you ever really trust and have faith in God-you'll begin to do things that make you feel uncomfortable- you'll begin to go places that challenges your faith. You'll begin to step out of boats and walk on stormy seas!

WHEN YOU WALK BY FAITH-IT'S UNCOMFORTABLE-ITS CONTRARY TO WHAT THE FLESH TELLS YOU-YOU WALK BY FAITH NOT BY SIGHT!!


-GIANT OF FEAR

I Samuel 17:11 When Saul and all Israel heard those words of the Philistine, they were dismayed, and greatly afraid.

FEAR SEES THE SICKNESS AND NOT THE SAVIOR
FEAR SEES THE DIFFICULTY BUT NOT THE DELIVERER
FEAR SEES THE WIND BUT NOT THE WATER-WALKER
FEAR SEES THE FIRE BUT NOT THE FOURTH MAN IN THE FURNACE
FEAR SEES THE LION BUT NOT THE LIBERATOR
FEAR SEES THE VALLEY BUT NOT THE MOUNTAINS ON BOTH SIDES
FEAR SEES THE MEAN, SCREAMING GIANT BUT NOT THE BIG UGLY FOREHEAD

DAVID NEVER DIGRESSED TO THE LEVEL OF CALLING HIM A GIANT…BUT HE LABELED HIM AN UNCIRMCISED PHILLISTINE

You can glamorize the devil by what you call him
"OOOO he's a ROARING LION!" "He's a vicious dragon" "The prince of the air"
May I set the record straight…HE'S A LIAR AND THE FATHER OF LIES, HE'S A FALLEN ANGEL,HE'S A COWARD, A CHEATER AND A THIEF, HIS MOTHER IS UGLY AND DRESSES HIM FUNNY, AND IN MY BOOK IT TELLS ME I'VE GOT POWER TO TREAD UPON SERPENTS, HE'S ALREADY BEEN DEFEATED!
GREATER IS HE THAT IS WITHIN ME THAN HE THAT IS IN THIS WORLD!

-GIANT OF CRITICISM & RIDICULE

I Samuel 17:28 And Eliab his eldest brother heard when he spoke unto the men; and Eliab's anger was kindled against David, and he said, Why camest thou down hither? and with whom hast thou left those few sheep in the wilderness? I know thy pride, and the naughtiness of thine heart; for thou art come down that thou mightest see the battle.

-GIANT OF SELF

I Samuel 17:38 And Saul armed David with his armor, and he put a helmet of brass upon his head; also he armed him with a coat of mail.
New Life Apostolic Church | Naples FL 34116
Naples Church Churches Naples FL Pentecostal Apostolic
Spirit Filled