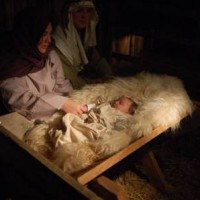 A King Came From The Cave
by Pastor Paul L. Getter | December 10, 2012
" And she brought forth her firstborn son, and wrapped him in swaddling clothes, and laid him in a manger; because there was no room for them in the inn." Luke 2:7
Our picture of the Christmas story is often glamorized in today's modern interpretation of Jesus being laid in the manger. The calmness of the night, an angelic host singing, and of course the tender touch of loving animals gathered in the manger. What was this manger? One must first understand that it most likely was not the comfortable, quaint, and picturesque looking barn we often think of. Most likely, it was merely a filth-filled cave covered with the remnants of years of visits from unclean animals. We can almost smell the stench of dung that crusted the floors of this darkened cave. Truly, this was not the preferred place to stay. Neither would one picture a child being laid in such a harsh environment, especially not a king. Yet, it is in here we see a great truth brought to us. In a place of filth, a cave of darkness, a promise is birthed.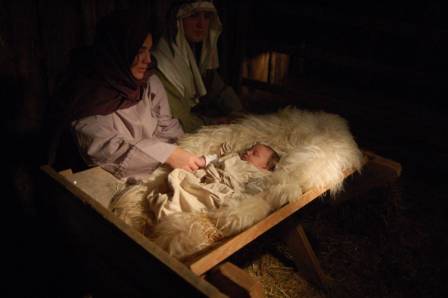 Many times we find ourselves in places of pain and situations of sadness. It is in those caves of calamity where filth surrounds us that God can bring forth some of the greatest promises. It was not in a pristine, sterile environment that the King was brought to us. But it was in a place and time where hurt, struggle and adversity abounded. The precedent was established that God can bring a promise from your filth-filled cave. Beauty can come from ashes. Hope can shine through hurt and a King can come from a cave.
Know assuredly that when the storms rage and valley grows dark in your life that this is not a setback but often a setup. God is putting you in a position where His glory can shine brighter than your pain. He is putting you in a place where His virtue transcends the present cave you find yourself in. It is in times when the waves crash down upon our boat that the Master can be seen treading upon the stormy sea. It is when we feel forsaken that the Comforter's hands reach around us one more time and assure us that He is with us.
Maybe it's the negative report from the physician, the untimely death of a loved one, the falling apart of a life-long relationship, we have all been in caves. Some caves are darker than others. Some caves carry a stench that is more unbearable than others. The fact remains the same. That in our caves and in our points of despair, God can still birth His promises in your life. Don't permit the adversary to convince you that some how the promises of God have become void in your life because you are in a cave.
I'm sure David learned this truth early on in his journey with God. For it was David that found himself in the cave of Adullam, fleeing for his life. As David paced the floors of that darkened cave, already being anointed of God as a king, I'm sure he pondered to himself and God, wandering why a king would be in a cave. The voice of God would remind him that indeed kings don't belong in caves, but it is often where kings are made. For it was in the caves that David truly learned how to have the heart of a king.
"To the chief Musician, Altaschith, Michtam of David, when he fled from Saul in the cave. Be merciful unto me, O God, be merciful unto me: for my soul trusteth in thee: yea, in the shadow of thy wings will I make my refuge, until these calamities be overpast."Psalm 57:1